Press Releases
---
M&A Technology Announces Companion AVA, Tablet for Professional Markets
M&A Technology, a leading provider of enterprise mobile solutions for education, government and healthcare announced today its strategic partnership with Aava Mobile to distribute the Companion AVA based on the Intel® AtomTM processor Z3745, an enterprise class Windows tablet designed by Aava Mobile specifically for the professional markets. As part of the agreement, M&A Technology will have exclusivity to distribute the tablet in the US
Dallas, TX (PRWEB) December 19, 2013 - M&A Technology, a leading provider of enterprise mobile solutions for education, government and healthcare announced today its strategic partnership with Aava Mobile to distribute the Companion AVA based on the Intel® AtomTM processor Z3745, an enterprise class Windows tablet designed by Aava Mobile specifically for the professional markets. As part of the agreement, M&A Technology will have exclusivity to distribute the tablet in the US.
The Intel-based Companion AVA is part of M&A Technology's mobile solutions designed specifically for vertical markets looking for a Windows tablet that can be secured and managed in a Microsoft Enterprise environment. With its sleek yet rugged casing and enhanced connectivity, the Companion AVA can be used to access cloud applications from anywhere using 4G LTE connectivity and/or WiFi. The M&A Companion AVA offers a sleek, elegant, ultra smooth user interface with capacitive touch screen that allows multitasking between applications with a swipe of a finger. The HD screen allows the user to view and share videos and photos on a high resolution screen.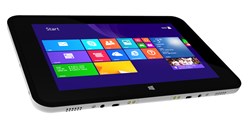 The new Companion AVA comes standard with 8.3" HD touch screen running at 1920x1200, Intel Atom processor Z3745, 2GB RAM, 32 GB SSD and Intel® HD graphics that supports 1080p videos. The device weighs approximately 1.1lb and provides USB and mini HDMI connectivity to be able to connect to a projector or a secondary screen. It comes with built in speakers, 8/2 mega-pixel rear/front cameras and microphone jack. The removable battery allows for 8-10 hours of continuous usage. The Companion AVA ships standard with Windows 8.1.
With the influx of tablets in the market today, the M&A Companion AVA is designed to address enterprise concerns for security, compatibility and manageability of such devices on a secure network. The Companion AVA can be deployed and managed just like any other Windows device on the network with no additional development cost.
About M&A Technology:
M&A Technology, a leading solutions provider since 1984, offers a wide range of custom technology solutions for education that are based on innovation to improve productivity and reduce the total cost of ownership through technology. In addition, M&A Technology offers cloud services for education from its data center in Dallas.
About Aava Mobile:
Aava Mobile, a leading manufacturer for mobile devices since 2009, offers tablets for professional markets. Our product offering includes customer-specific tablets as well as Aava roadmap products. We work with our partners and customers to address the specific needs of vertical markets. We leverage our smartphone and wireless experience for innovating the professional tablet market with sleek, light and robust designs.
Please visit http://www.aavamobile.com for more information.
Intel and Atom are registered trademarks of Intel Corporation in the United States and other countries.
Contact:
M&A Technology, Inc.
2045 Chenault Drive
Carrollton, TX 75006
Toll Free 800-225-1452
http://www.macomp.com
Contact:
Aava Mobile Oy
Nahkatehtaankatu 2
90130 Oulu
Finland
info(at)aavamobile(dot)com
http://www.aavamobile.com
Notice: All information contained in M&A Technology, Inc. press releases is accurate and valid as of the date of issue. All content is subject to change. For the latest information about M&A Technology, Inc. and M&A Technology products, please contact the appropriate contact.